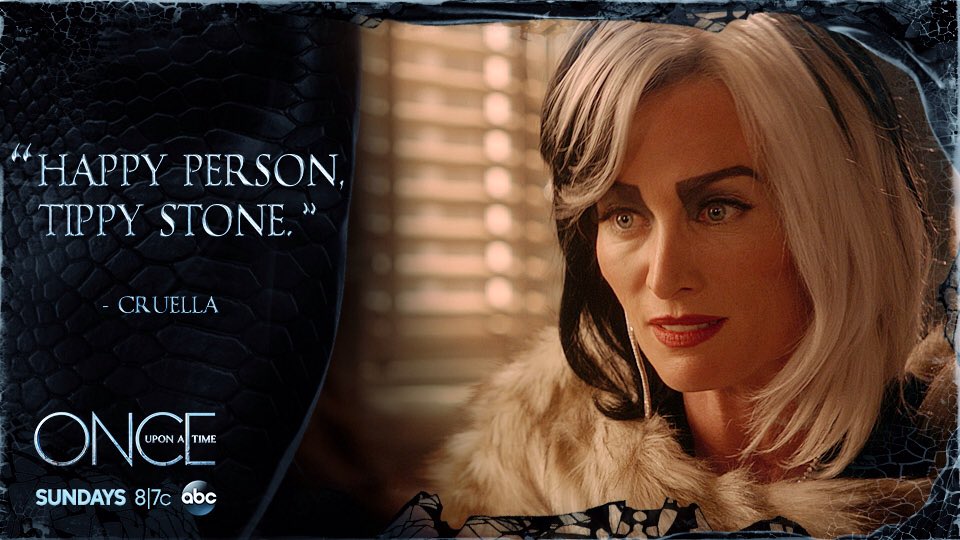 Spoiler Thoughts:
"Keep all arms and hand inside the boat." Insult to injury.

For all the terrible things Gold does, you can't say that he doesn't get swift and brutal karmic retribution most of the time.

Man, Bae didn't really have great survival instincts.

Mila is the worst, but Gold is doing a pretty fast dive to the bottom as well here.

Gold just loves the humiliation.

This healer isn't all that altruistic.

Apparently he doesn't take HMO.

Rumple, feeling the disquiet when your ex becomes friends with your associates.

How's Mila thinking she's going to shout out before Rumple silences her?

Lady Macbeth has nothing on Mila.

Wow, Killian really improved in this flashback. He was a pretty common sleeze in the first time we checked this story. Now he's a total white knight.

Convenient that the road from the boat led directly to Hook.

You would think Emma would have learned to wear rubber soled shoes on these missions by now.

Actually, if Hook just swung a couple degrees while he was getting lowered down, he could have freed himself.

I just feel like we could have bargained more with the healer instead of going immediately to homicide.

I'm not sure I would be sitting down to tea with the guy who just tried to kill me.

I wouldn't be standing that close to the river of the damned.

Rumple's life is just a series of increasingly horrible deals.

Regina is getting closure all over the place this season.

This actually doesn't seem like the worst deal Rumple could have made, but maybe he should have tried to put time limits on it.

I'm not so sure why Mila's so bent out of shape about this. He only sold his next kid, not hers.

Rumple, you goober.

I don't really remember when Regina's magic left.

"She made me who I am." Carlyle is so good.

Well remember Cora couldn't grab Emma's heart either.

It must be such a relief to play full-blown Dark Rumple after having to be all angsty the rest of the episode.

Ugh. I didn't need to know what he and Belle were doing right before he left.

Man, you would think, after all this time, Rumple would know how to construct a deal.