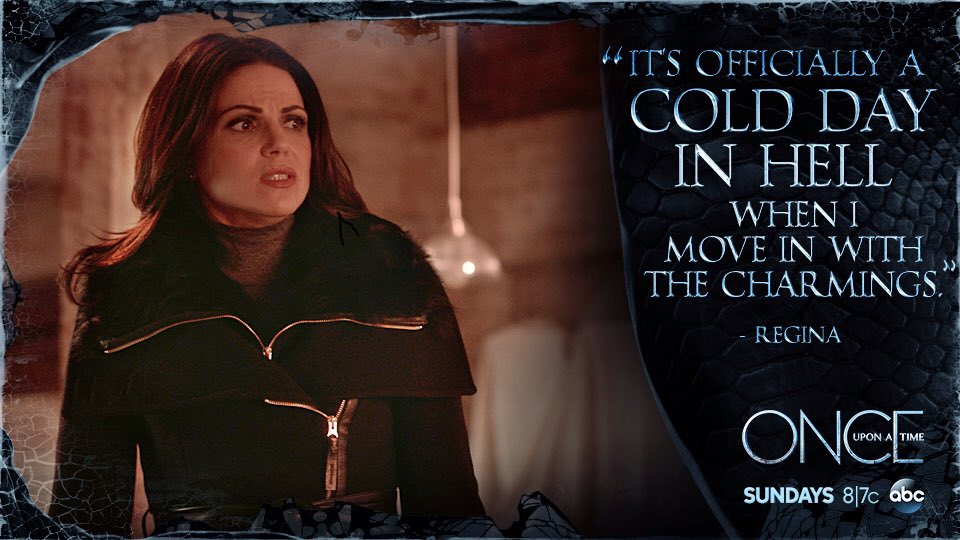 Spoiler Thoughts:
Wonder if it's Meg?

Well Hook certainly did a turnaround after Emma stabbed the darkness out of him. Wonder why it didn't take that way for Rumple?

I would be totally paranoid by now if I was Snow, that David was James substituting.

Like maybe make Charming dye his hair or have a code word or something.
If the only people who died in Snow's whole kingdom are represented by the handful of tombstones in the Storybrooke cemetery, I'd say she did a pretty good job.
How do these people think a 13 year-old can help them? Why doesn't she send an army?
Her Dad wasn't much for planning for emergencies.

If you fall in a trap, maybe calling attention to yourself isn't what you want. 

BB Herc!

Hercules died?

That wasn't how the Disney film ended. 

Regina just now remembered she has maps?

Sad that housing is easier to come by in the Underworld than LA. 

What if Hercules just beat up the bandits for Snow? I'm pretty sure the villagers didn't actually expect Snow to kill the bandits herself. 

Hansel and Gretel's witch is pretty forgiving to Regina considering she killed her. 

I kind of think questions like "how did you die" could be important. 

I thought the dwarfs taught Snow archery? Or am I thinking of another retelling?

Oh wait, that might have been the one with Julia Roberts. 

Why does anyone have to stand guard outside the office if the spell doesn't let anyone in?

Doesn't it seem like Cruella would be the best person to control Cerberus?

Well this does seem like a pretty poorly thought out plan, Snow.


I guess Regina eventually gave up on that whole "I won't make her into a martyr" thing. 

Cruella's eyebrows look better in death.
I feel like Emma is ok without bringing Cruella back to life.
Regina seems a little dismissive about the part where she took Snow's kingdom, trapped everyone in misery for 28 years and kept Snow childless.
Not sure you can just go "no biggie" on that one.
Didn't Charming give a big speech early on about how everyone needed both versions of themselves?
Nice Snow. I don't even think that's your bow you're trying to break.
Why doesn't Emma just blink them away like last time?
This still seems like a pretty half-assed plan, Snow.
What's to keep these bandits from coming back tomorrow?
If those guys hadn't been told not to kill her, I think Snow would have been toast.
If you know the thing has three heads, why would you split up in parties of two?
That's right. Give the girl with no fighting experience the worst weapon.
No mod-sixties-vibe overlay is going to make "The Catch" an attractive program to me.
It's a trap, Herc!
I don't know why anyone of them would want to keep the loser personas Regina cursed them with anyway.
That's right Henry. Keeping secrets always works great in your family.
Well this kind of seems like a no-brainer. Start with Gold, anyway.