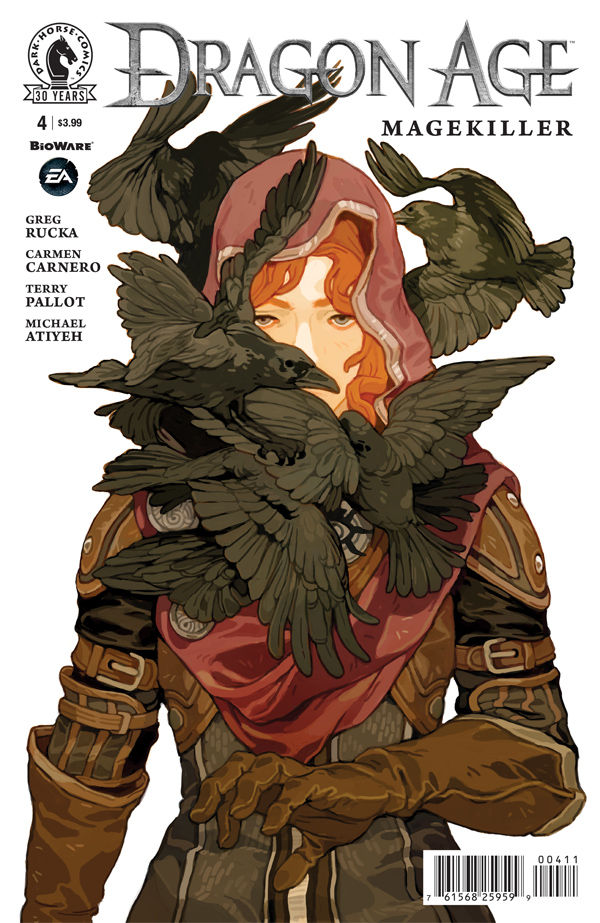 Magekillers #4 continues Greg Rucka's story of Tessa and Marius–mage-killing mercenaries set in the Dragon Age universe, at the time of Dragon Age Inquisition.
In this fourth volume of the Dragon Age side-story, Tessa and Marius seem to have become agents of the Inquisition, assigned to survey the Hissing Wastes–an area which proves to be just as unpleasant to inhabit, as it was to play.  When they discover the Venatori up to their old tricks, some familiar faces join them in an attempt to halt evil, give aid to the downtrodden, and get away from the sand.
After last month's return to the "book-long fight structure," this issue was a marked improvement.  Although it again centers around a huge action sequence, the involvement of a large cast and the emphasis on the combat strategy lends it added interest.  More character development is present as well, this time integrated better into the story versus delivered through voice over narration as in earlier months.  Marius in particular benefits from a subplot that reveals him as capable of becoming something more than another embittered ex-slave.
Ultimately however, the book brings back one of my favorite characters from DAI, so I'm hardly objective about it.  At its heart, I feel that this is the main appeal of the series–it gives us a little more time to spend with the world of Dragon Age and its denizens.  As long as they continue to be drawn true to life…or game…I'm all in.
Dragon Age:  Magekillers #4 release date:  March 16, 2016.