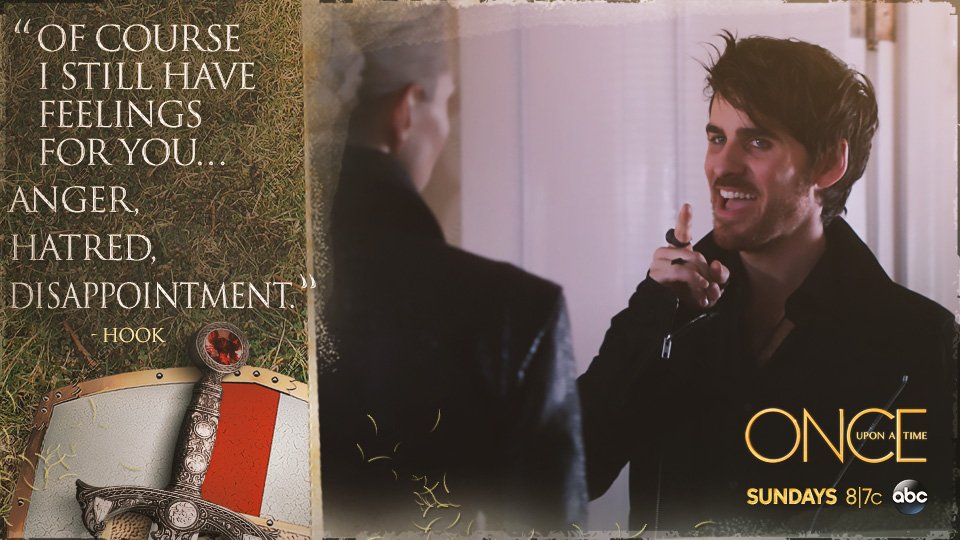 Ok, only a week or so before Once Upon A Time starts up again.  Time to catch up!
Spoiler Thoughts:
Rumple is the best. 

As the years go on, I feel like Rumple's green-ness gets a little more spottier applied. 

Yeah, that's right Regina. You try being judgey in this circumstance. 

I always think these guys must love it when their characters go evil again. It's so much more to play. 

Especially Hook, who was just relegated to pining after Emma for so long. 

The Dark Ones have chronicles?

Everyone wishing they were somewhere else, while Henry lowers the boom down on Emma. 

I do think Emma's getting the short end of the stick. It's not like any of them could gave helped her even if she came to them. 

They'd just be all "oh, tough about Hook. Well, back to frolicking around with my true love some more. Bye."

They did get a spiffy new wardrobe back in Camelot. 

I think these open-ended "meet me here and I'll know how you feel" arrangements are recipes for disaster. 

Ugh. If anything would make me want the Dark Ones to win, it's Merida. 

Why would Emma leave him alone? She knows Rumple will come back. 

This seems like Hook's overreacting a little here. 

Yeah, that's right Gold. You try being judgey in these circumstances. 

What's to prevent Zelina from just zapping off with the baby?

Kind of justice, since Merlin being a sap created the Dark Ones to begin with. 

Henry's awesome. 

Ha ha. Rumple saving Gold is great. 

I feel like we've played this scene out by the well a few times before. 

Rumple is such a helper. 

Wait, there's a portal to the underworld that just happens to be in a lake in Storybrooke?

I don't know whether that should make the real estate value go up or down. 

I totally don't remember the thing with Robin and the fury.