Magekillers #1 starts a new chapter in the world of Thedas, as Greg Rucka brings us a story of mage-killing mercenaries set in the Dragon Age universe.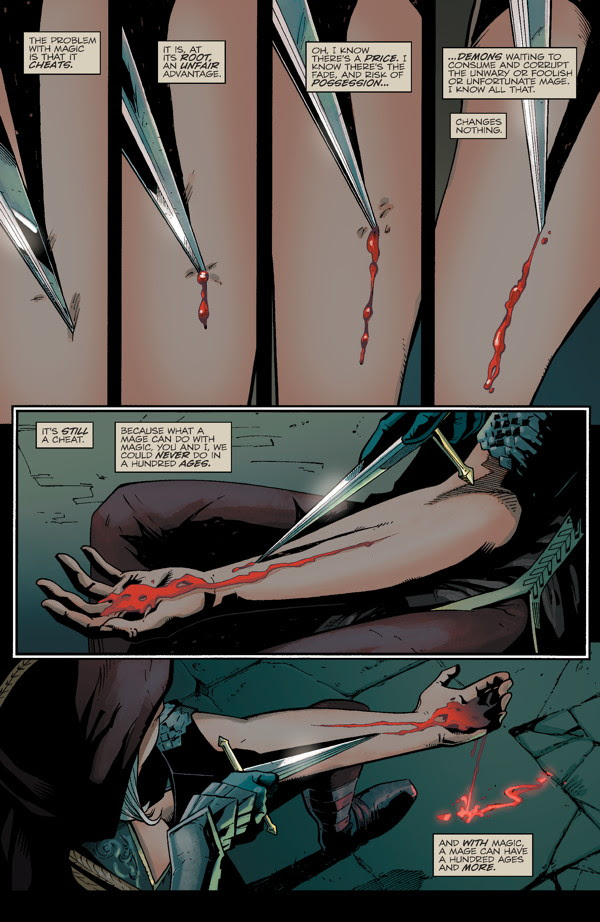 While this first book has the burden of setting up and introducing new readers to the extensive lore of Thedas, it cleverly interweaves the exposition with a dramatic battle illustrating the dangers of blood magic and apostates.  Your leads in this journey are Tessa and Marius–a glib scoundrel and a taciturn ex-slave from Tevinter; partners who seem more than a little familiar to those who rolled a rogue purple Hawke and romanced Fenris in Dragon Age II.
If people new to the Dragon Age franchise will have a reasonable amount of backstory explained to them, veterans will have a few nods as well, as references are made to such storyline staples as the literary works of Varric Tethras.
The art is beautiful and the story seems expertly paced and placed, as the characters begin what promises to be a dicey assignment in Minrathous–capital of Tevinter, and likely important location for the hinted-at sequel to Dragon Age Inquisition.  Although few details about our heroes' job or their illustrious employer are handed out this time around, the potential is certainly vast enough for me to hold my interest for the upcoming issues.
Dragon Age:  Magekillers #1 release date:  December 16, 2015.